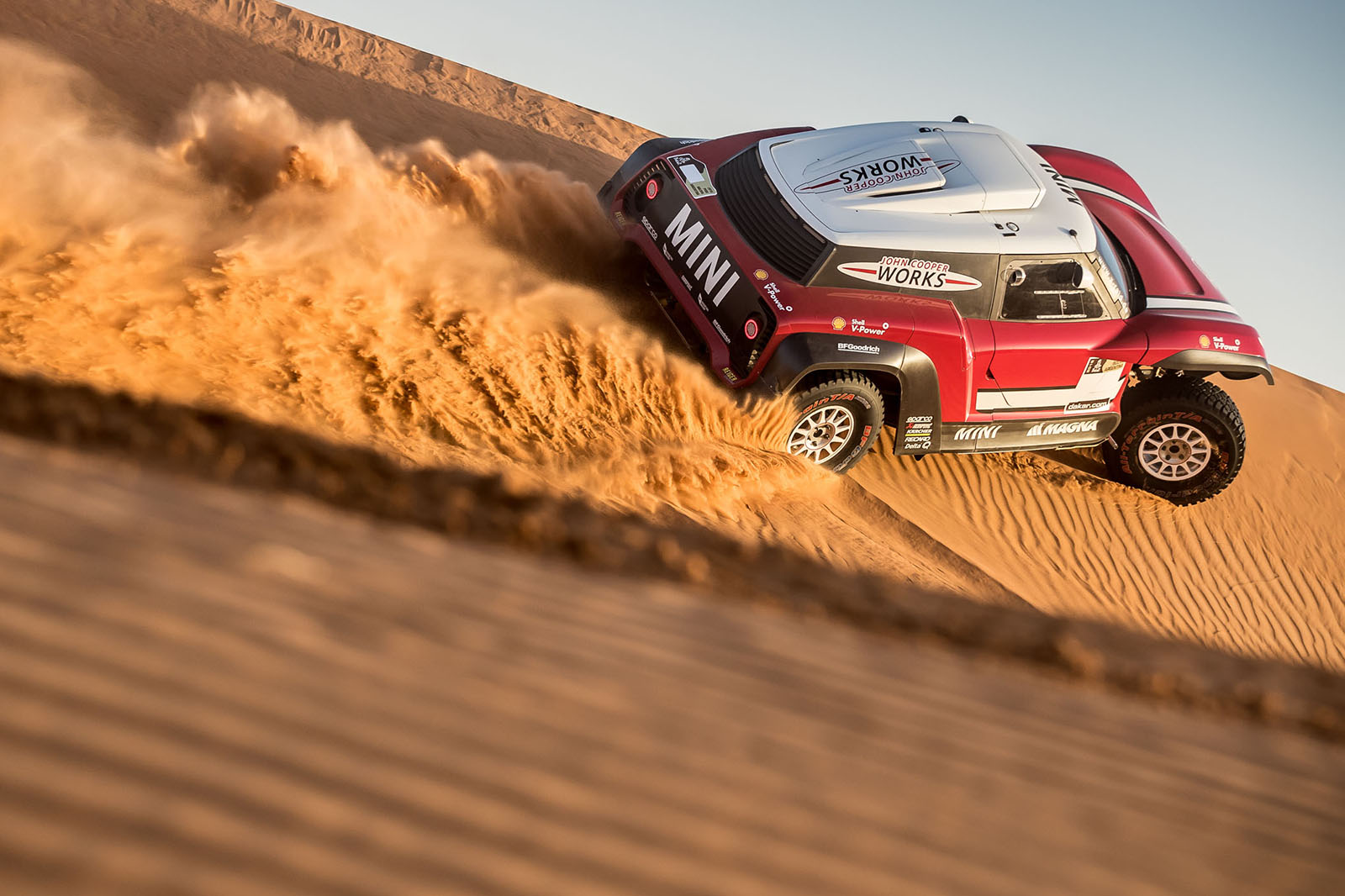 New rear-wheel-drive Mini joins incumbent all-wheel-drive Mini John Cooper Works Rally
Mini has created a hardcore new rally vehicle, the John Cooper Works Buggy, which it has assigned the arduous task of competing in the 2018 Dakar Rally.
The all-new competition model, co-developed with longstanding Mini rally partner X-Raid, eschews the all-wheel-drive layout of the incumbent Mini John Cooper Works Rally (pictured bottom) for a rear-drive system.
Rear-wheel-drive cars, while sacrificing ultimate traction in some parts of the rally's near-5500-mile route through South America, are allowed, according to the event's regulations, to run with larger wheels and higher ground clearance.
These technical advantages, as well as the weight saving possible with a two-wheel-drive car, have convinced Mini to develop the new Buggy with the intention of winning the Dakar Rally, which takes place between the 6 and 20 January and tasks entrants with racing from Peru to Argentina.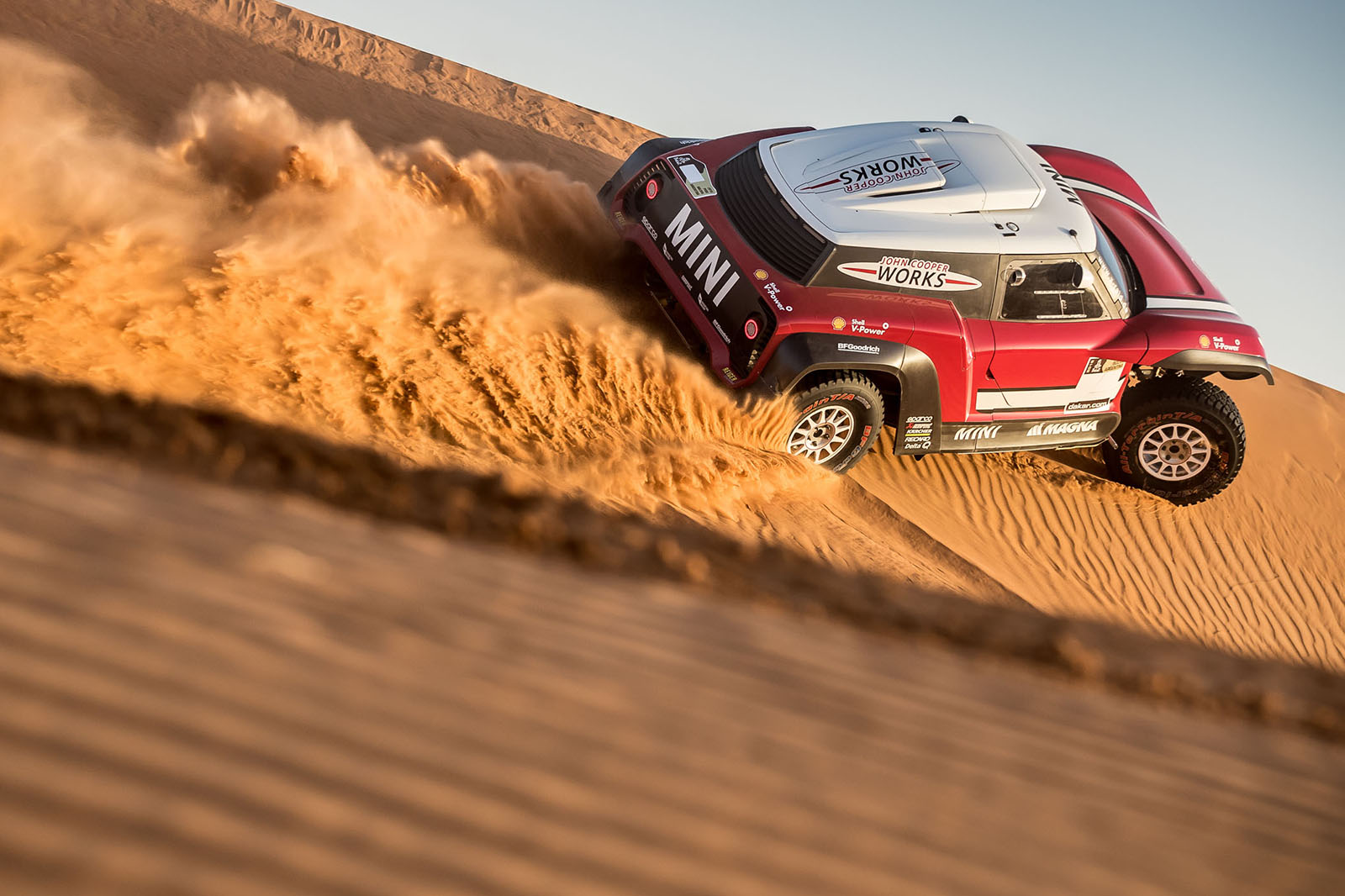 Like the JCW model, the Buggy uses a 3.9-litre straight-six diesel engine with BMW's Twinpower Turbo technology. The unit delivers 335bhp and 590lb ft of torque to the wheels.
The Buggy uses a tubular steel frame with bodywork made from carbonfibre-reinforced plastic and Kevlar.
Mini and X-Raid have already tested the Buggy on varying off-road terrain in Hungary and Morocco, during which time team manager Sven Quandt said: " the car never had to stop once due to a technical problem, which is really quite remarkable".
Despite the Buggy's target to win the event, Mini believes its all-wheel-drive JCW Rally still stands a chance. It finished sixth in this year's race, but the 2018 model has received a new chassis and enhanced suspension travel.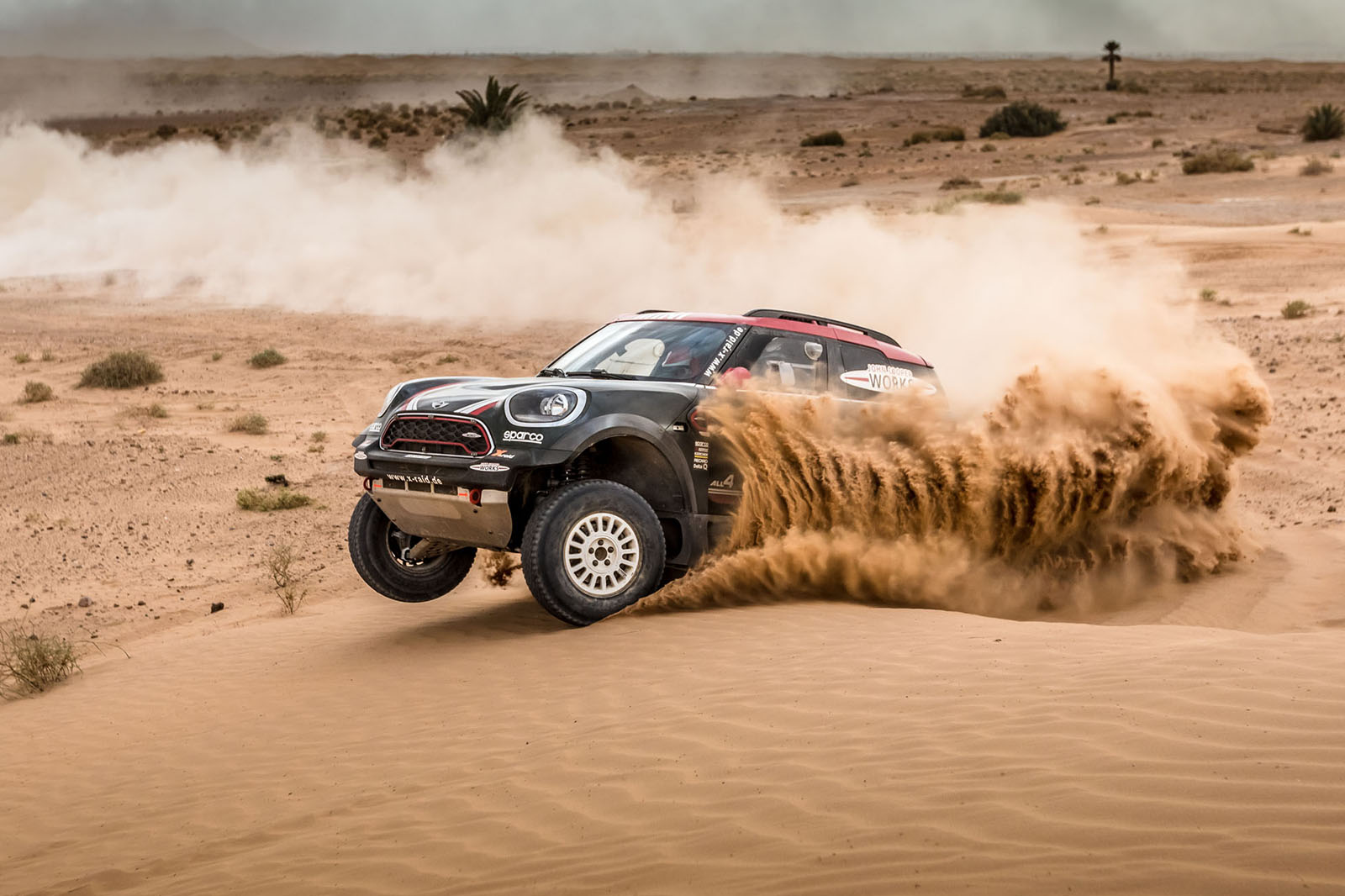 "There are tracks and types of terrain where an all-wheel-drive car has advantages," added Quandt of the JCW Rally. "What's more, our car is extremely reliable."
Mini last won the Dakar Rally in 2015, the last of a four-year winning streak for the brand. Peugeot won the 2017 event with the 3008 DKR, and the French brand will return for 2018 with nine-time World Rally Championship champion Sébastien Loeb in its line-up.
The 2018 event, the 40th Dakar Rally to be held, is expected to be Peugeot's last. Loeb's second place in 2017 marked his best finish at the rally to date.
Must-Have Miracle Health Pen
Bitcoin
Start Mining Bitcoin and Ethereum Now
Exclusive Secrets Bitcoin Guide
Bitcoin Miracle – Turn $15 Into $10,000 With Zero Work!
Crypto Investing Pro – Bitcoin And Cryptocurrency Made Easy
New York Times #1 Rated Bitcoin Mining Equipment
El ABC De Las Criptomonedas – Ingresos Con Bitcoin
Criptolatino.net – Curso Criptomonedas Y Bitcoin
Drones
Top Brand Drones, Quad-Copters & Accessories
Select Partner Offers
Interesting Finds – Updated Daily
Electronics Showcase, The Latest & Greatest in Tech – All In One Place!
The Best Vehicle Computer Chip Re-Programmers
Amazon Has the #1 Vehicle Compare Tool – Check it Out!
Learn Professional Bike Repair – DIY
Free Prime Trial – The Grand Tour
Acer Falling Prices & Special Deals
70%+ Discounts on 5-Star Automotive & Motorcycle Deals
95%+ Discounts on Local Auto Auctions
Motorcycle
Rockbottom Prices on Local Motorcycle Auctions
Extreme Max #1 Motorcycle Chock Stand
70%+ Discounts on 5-Star Motorcycle & Powersports Protective Gear
Travel, Leisure, Camping, Outdoor & Survival
Coast Guard Boot Camp #1 Survival Guide
Best Selling 5-Star Camping Trailer Accessories
Paleo Revolution – NYT Bestseller!
Electric Revolution
Best Cordless Electric Mowers & Lawn Care
DIY Solar and Wind Green Living Kit
DIY-Build aYour Own 50mph Electric Bike
Home Solar Energy System Secret
Home, Family & Baby
Home Air Purification Developed by NASA
"Open-Box" Deals on #1 Baby Strollers
The Ex Factor Guide – How to Win Your Ex Back
Ecommerce – Start Your Own Business
Salehoo Wholesale & Dropship Directory
Paidsocialmediajobs.com – Get Paid To Mess Around On Facebook And Twitter