—-
Our Savior Mazda Thinks Big Screens In Cars Are Bad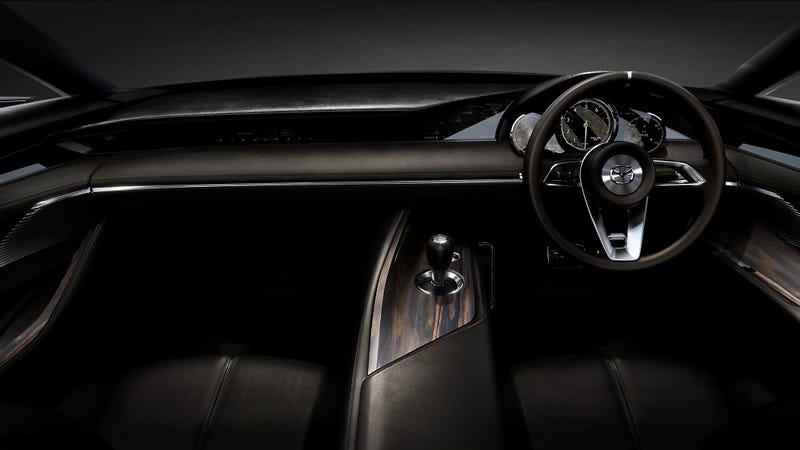 It has been said on this very website that big, dominating infotainment screens are terrible, ugly and a pain in the ass. They effectively block your view and the design is usually lazy: stuck on top of everything like an afterthought. Mazda is sick of this shit.
During the Tokyo Motor Show a few weeks ago, Mazda unveiled the stunning Vision Coupe Concept, which blew us away with its looks. And inside, you'll notice it's conspicuously free of a large screen. This, according to The Verge, is because Mazda wants to keep its drivers first, displays second:
"In recent times, car interiors have come to be dominated by large displays. Although considerable amounts of information need to be supplied to the person operating the car, these screens can easily become a barrier that blocks the driver's view."

Mazda says, "a car and driver should have a bond like that seen between a horse and its rider," referring to a philosophy called Jinba-ittai.
Though it's not clear what Mazda's plans are for the Vision Coupe Concept, elements of the design will most likely make it to future Mazda3 and Mazda6 models.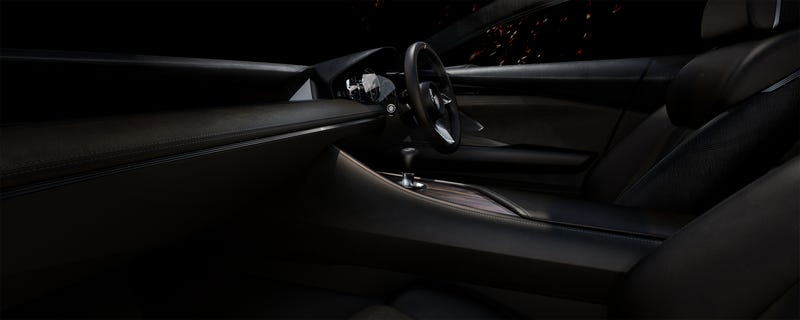 The concept's interior looks spartan and oddly blank at first pass, but I realize it's because I'm so used to seeing cluttered dashboards and consoles that simple is now abnormal to me. Shit.
—-
Must-Have Miracle Health Pen
Bitcoin
Start Mining Bitcoin and Ethereum Now
Exclusive Secrets Bitcoin Guide
Bitcoin Miracle – Turn $15 Into $10,000 With Zero Work!
Crypto Investing Pro – Bitcoin And Cryptocurrency Made Easy
New York Times #1 Rated Bitcoin Mining Equipment
El ABC De Las Criptomonedas – Ingresos Con Bitcoin
Criptolatino.net – Curso Criptomonedas Y Bitcoin
Drones
Top Brand Drones, Quad-Copters & Accessories
Select Partner Offers
Interesting Finds – Updated Daily
Electronics Showcase, The Latest & Greatest in Tech – All In One Place!
The Best Vehicle Computer Chip Re-Programmers
Amazon Has the #1 Vehicle Compare Tool – Check it Out!
Learn Professional Bike Repair – DIY
Free Prime Trial – The Grand Tour
Acer Falling Prices & Special Deals
70%+ Discounts on 5-Star Automotive & Motorcycle Deals
95%+ Discounts on Local Auto Auctions
Motorcycle
Rockbottom Prices on Local Motorcycle Auctions
Extreme Max #1 Motorcycle Chock Stand
70%+ Discounts on 5-Star Motorcycle & Powersports Protective Gear
Travel, Leisure, Camping, Outdoor & Survival
Coast Guard Boot Camp #1 Survival Guide
Best Selling 5-Star Camping Trailer Accessories
Paleo Revolution – NYT Bestseller!
Electric Revolution
Best Cordless Electric Mowers & Lawn Care
DIY Solar and Wind Green Living Kit
DIY-Build aYour Own 50mph Electric Bike
Home Solar Energy System Secret
Home, Family & Baby
Home Air Purification Developed by NASA
"Open-Box" Deals on #1 Baby Strollers
The Ex Factor Guide – How to Win Your Ex Back
Ecommerce – Start Your Own Business
Salehoo Wholesale & Dropship Directory
Paidsocialmediajobs.com – Get Paid To Mess Around On Facebook And Twitter