—-
Roy Halladay's Death Was The Third Crash For New Recreational Plane Since April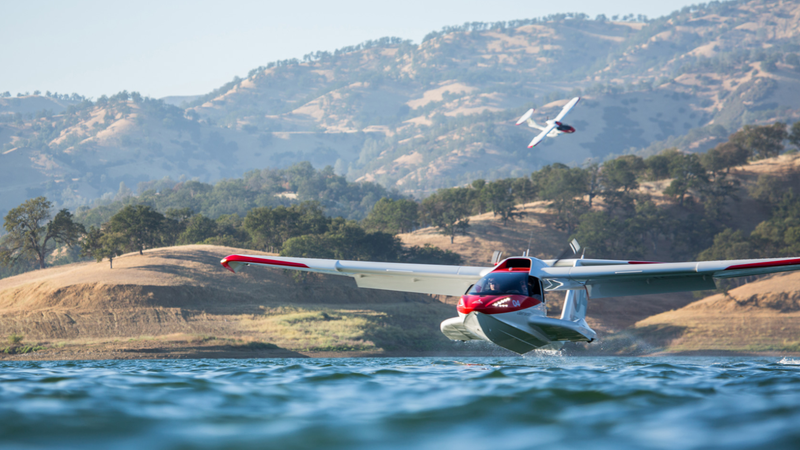 Former Blue Jays and Phillies pitcher Roy Halladay died in a plane crash off the coast of Florida yesterday while flying the relatively new ICON A5 recreational aircraft, which has been involved in two other crashes since it went on sale in 2014.
The ICON A5 is a small, recreational amphibious aircraft, which is capable of folding up for ease of trailer transport. The plane went on sale in 2014, with about 20 existing examples, according to The Associated Press via multiple outlets, including Bloomberg.
Roy Halladay's crash yesterday afternoon is the second fatal crash involving the ICON A5—the plane's head designer, John Murray Karkow, and the company's director of engineering, Cagri Sever, both died in a crash in California back in May. The subsequent National Transportation Safety Board (NTSB) investigation determined the fatal crash to be caused by pilot error due to the low altitude of the plane, which crashed into a canyon wall. The NTSB will also investigate Halladay's crash.
The Associated Press reached out to Stephen Pope, the editor-in-chief of Flying Magazine, who suggests the intended low-altitude flying for the ICON A5 is a potentially critical issue. Here's more from the report:
Pope said "the plane itself is great," but he had concerns about Halladay, a new pilot with little flying time, taking the craft out over water at low altitude, though the plane was marketed as a craft that could do that.

"They still think that that's the way the airplane should be flown, and there are people in aviation who completely disagree with that," Pope said. "They think you should not have a low-time pilot flying low over water. That's a recipe for disaster."
Video recorded by bystanders and obtained by TMZ just before Halladay's crash show an aggressive and reckless flight pattern at high speeds and extremely low altitudes. Additional video shows the floating wreckage after the crash.
Another ICON A5 crashed just off the coast of Florida back in April. The pilot claimed the A5 descended faster than expected, landing in the water and injuring the occupants.
Police recovered Roy Halladay's body yesterday afternoon and could not yet confirm whether or not there were any passengers in the plane. ICON released a statement offering its full cooperation with the NTSB's investigation.
Editor's note: The headline has been tweaked to clarify that the first crash occurred in April, and a link to TMZ video of Halladay flying the plane the day of the crash has been included.
—-
Bitcoin
Start Mining Bitcoin and Ethereum Now
El ABC De Las Criptomonedas – Ingresos Con Bitcoin
Criptolatino.net – Curso Criptomonedas Y Bitcoin
Exclusive Secrets Bitcoin Guide
Bitcoin Miracle – Turn $15 Into $10,000 With Zero Work!
Crypto Investing Pro – Bitcoin And Cryptocurrency Made Easy
New York Times #1 Rated Bitcoin Mining Equipment
Drones
Top Brand Drones, Quad-Copters & Accessories
Select Partner Offers
Interesting Finds – Updated Daily
Electronics Showcase, The Latest & Greatest in Tech – All In One Place!
The Best Vehicle Computer Chip Re-Programmers
Amazon Has the #1 Vehicle Compare Tool – Check it Out!
Learn Professional Bike Repair – DIY
Free Prime Trial – The Grand Tour
Acer Falling Prices & Special Deals
70%+ Discounts on 5-Star Automotive & Motorcycle Deals
95%+ Discounts on Local Auto Auctions
Motorcycle
Rockbottom Prices on Local Motorcycle Auctions
Extreme Max #1 Motorcycle Chock Stand
70%+ Discounts on 5-Star Motorcycle & Powersports Protective Gear
Travel, Leisure, Camping, Outdoor & Survival
Coast Guard Boot Camp #1 Survival Guide
Best Selling 5-Star Camping Trailer Accessories
Paleo Revolution – NYT Bestseller!
Electric Revolution
Best Cordless Electric Mowers & Lawn Care
DIY Solar and Wind Green Living Kit
DIY-Build aYour Own 50mph Electric Bike
Home Solar Energy System Secret
Home, Family & Baby
Home Air Purification Developed by NASA
"Open-Box" Deals on #1 Baby Strollers
The Ex Factor Guide – How to Win Your Ex Back
Ecommerce – Start Your Own Business
Salehoo Wholesale & Dropship Directory
Paidsocialmediajobs.com – Get Paid To Mess Around On Facebook And Twitter