—-
A Nevada Highway Is Shutting Down For Koenigsegg's Attempt At A Speed Record (Updated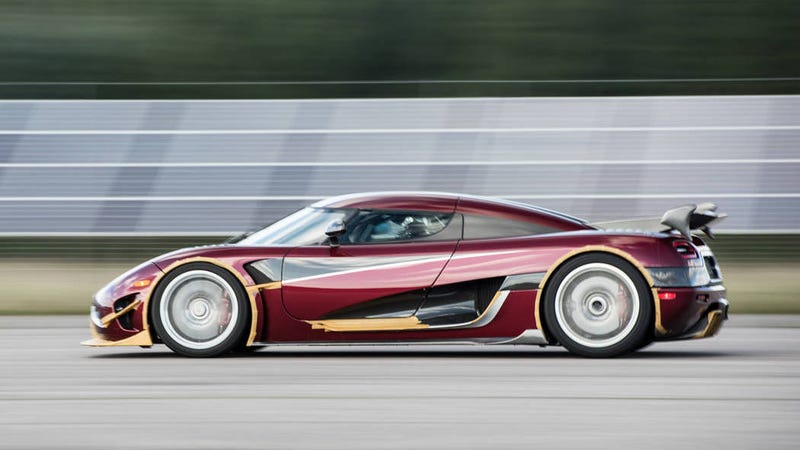 If you live in Nevada and were planning on using Route 160 between Las Vegas and Pahrump this weekend, TOO BAD. Important things are happening that trump your need to buy groceries or go to the hospital or whatever. Koenigsegg, the hypercar company owned by a Swedish scientist from the future, is using a section of that highway for a record speed run. Update: Average speed for the runs was 277.9 mph today, so they may have pulled it off.
The Las Vegas Review-Journal reports that today and Sunday, an 11-mile straight section of that highway will be closed so a Koenigsegg Agera RS can attempt to crush Bugatti's standing 268 mph speed record. The highway will be closed between 7 a.m. and 3 p.m. local time both days, the paper reports.
From that story:
Spring Mountain Motor Resort and Country Club at the southern edge of Pahrump is hosting the run at the record. Joel Oscarson, strategic development coordinator for the driving school and club for racing enthusiasts, wasn't available for comment Friday, but he previously told the Pahrump Valley Times that this weekend's attempt has been in the works for about a year.

Oscarson called it "one of the most exciting events ever attempted on Nevada's highways."
Motorists in the area can expect delays and the Nevada Highway Patrol is closing exits and providing escorts. None of that matters because this is cool and good.
The Agera RS has a 1,160 horsepower 5.0-liter twin-turbo V8 engine and is one of the most limited production and high-tech cars on the planet. Its power and speed are indisputable, but we will see if it has what it takes to beat Bugatti this weekend. To achieve speeds like that in a conventional car is to declare war on physics, to say nothing of tires, which are often the big barrier to the 300 mph mark.
But the record may already be smashed. One Las Vegas reporter on the scene claims an "unofficial" speed today of 291 mph:
https://kinja.com/ajax/inset/iframe?id=twitter-926861755480866816&autosize=1
It's unclear if that has been verified yet, or whether it stands to be broken in later runs. Jalopnik will update this post as we learn more. If you're out there or if you've heard anything, let us know in the comments.
Update 4 p.m. EST: Based on these early results with average speeds of 277.9 mph, they may have broken the record. Koenigsegg says more details are coming soon.
https://kinja.com/ajax/inset/iframe?id=instagram-BbFbTGmDlI5&autosize=1
Bitcoin
Start Mining Bitcoin and Ethereum Now
El ABC De Las Criptomonedas – Ingresos Con Bitcoin
Criptolatino.net – Curso Criptomonedas Y Bitcoin
Exclusive Secrets Bitcoin Guide
Bitcoin Miracle – Turn $15 Into $10,000 With Zero Work!
Crypto Investing Pro – Bitcoin And Cryptocurrency Made Easy
New York Times #1 Rated Bitcoin Mining Equipment
Drones
Top Brand Drones, Quad-Copters & Accessories
Select Partner Offers
Interesting Finds – Updated Daily
Electronics Showcase, The Latest & Greatest in Tech – All In One Place!
The Best Vehicle Computer Chip Re-Programmers
Amazon Has the #1 Vehicle Compare Tool – Check it Out!
Learn Professional Bike Repair – DIY
Free Prime Trial – The Grand Tour
Acer Falling Prices & Special Deals
70%+ Discounts on 5-Star Automotive & Motorcycle Deals
95%+ Discounts on Local Auto Auctions
Motorcycle
Rockbottom Prices on Local Motorcycle Auctions
Extreme Max #1 Motorcycle Chock Stand
70%+ Discounts on 5-Star Motorcycle & Powersports Protective Gear
Travel, Leisure, Camping, Outdoor & Survival
Coast Guard Boot Camp #1 Survival Guide
Best Selling 5-Star Camping Trailer Accessories
Paleo Revolution – NYT Bestseller!
Electric Revolution
Best Cordless Electric Mowers & Lawn Care
DIY Solar and Wind Green Living Kit
DIY-Build aYour Own 50mph Electric Bike
Home Solar Energy System Secret
Home, Family & Baby
Home Air Purification Developed by NASA
"Open-Box" Deals on #1 Baby Strollers
The Ex Factor Guide – How to Win Your Ex Back
Ecommerce – Start Your Own Business
Salehoo Wholesale & Dropship Directory
Paidsocialmediajobs.com – Get Paid To Mess Around On Facebook And Twitter